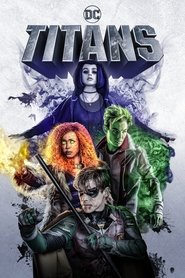 Στηρίξτε τη Σελίδα μας Κάνοντας μία απλή Εγγραφή στην παρακάτω Διαφήμιση.Αν τα έσοδα ειναι Αρκετά για τα Έξοδα της Σελίδας θα Αφαιρεθούν η Αναδυόμενες Διαφημίσεις.
Synopsis
Titans – Τιτάνες – OnlineMovie.gr – Μια ομάδα νεαρών υπέρ-ηρώων με επικεφαλής τον Nightwing δημιουργείται για να καταπολεμήσει το κακό και άλλους κινδύνους.
A team of young superheroes led by Nightwing (formerly Batman's first Robin) form to combat evil and other perils.
TMDb Rating 10 1 votes
First air date
Oct. 12, 2018
Last air date
Oct. 12, 2018
Average Duration
43 minutes