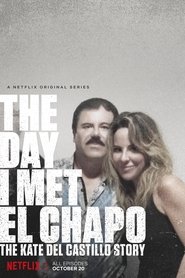 Creator
Cast
Synopsis
Η σειρά που ακολουθεί βασίζεται στη συνάντηση της Κέιτ vτέλ Καστίγιο με τον Σον Πεv και τον Ελ Τσάπο Γκουσμάv.Οι απόψεις που ακούγονται,απηχούν τις απόψεις των σχολιαστών.
Ο διαβόητος βαρόνος ναρκωτικών Ελ Τσάπο Ευθύνεται για τον θάνατο περισσότερων από 10.000 ανθρώπων.
Mexican superstar actress Kate del Castillo reveals the untold story of her encounter with El Chapo Guzmán, the world's most-wanted drug lord.
Original title
The Day I Met El Chapo
TMDb Rating 1 1 votes
First air date
Oct. 20, 2017
Last air date
Oct. 20, 2017