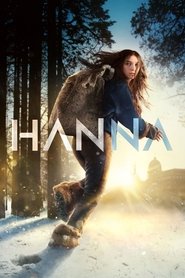 Seasons and episodes
Synopsis
Μεγαλωμένη απο τον πατέρα της στην άγρια φύση της Φινλανδίας, η έφηβη Hanna εκπαιδεύεται ολόκληρη την ζωή της, για να γίνει η τέλεια δολοφόνος. Ο πατέρας της, την στέλνει σε μια μυστική αποστολή και αυτή εισέρχεται μυστικά στην Ευρώπη, αποφεύγοντας τους πράκτορες που έχει στείλει η Marissa, η αδίστακτη πράκτορας που κάποτε δούλευε με τον πατέρα της. Καθώς πλησιάζει στον στόχο της, η Hanna θα βρεθεί αντιμέτωπη με συγκλονιστικές αποκαλύψεις γύρω απο την ύπαρξη της, που θα την κάνουν να αμφισβητήσει την ανθρώπινη φύση της.
Το σενάριο της τηλεοπτικής μεταφοράς έχει γράψει ο σεναριογράφος του φίλμ David Farr ("The Night Manager"), ενώ την σκηνοθεσία έχει αναλάβει η Sarah Adina Smith ("Legion", "Room 104"). Πρωταγωνιστούν οι Esme Creed-Miles ("Mister Lonely", "Dark River"), Mireille Enos ("The Killing"), Joel Kinnaman ("The Killing", "Altered Carbon"), strong>Rhianne Barreto, Khalid Abdalla, Kemaal Deen-Ellis, Benno Fürmann, Félicien Juttner, Phaldut Sharma, Sam C. Wilson.
This thriller and coming-of-age drama follows the journey of an extraordinary young girl as she evades the relentless pursuit of an off-book CIA agent and tries to unearth the truth behind who she is. Based on the 2011 Joe Wright film.
TMDb Rating 7.3 3 votes
First air date
Feb. 03, 2019
Last air date
May. 30, 2019
Average Duration
50 minutes