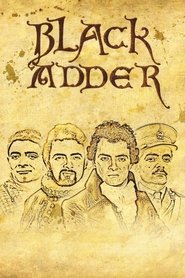 Στηρίξτε τη Σελίδα μας Κάνοντας μία απλή Εγγραφή στην παρακάτω Διαφήμιση.Αν τα έσοδα ειναι Αρκετά για τα Έξοδα της Σελίδας θα Αφαιρεθούν η Αναδυόμενες Διαφημίσεις.
Synopsis
Η Μαύρη Οχιά (Black Adder) είναι μια βρετανική κωμική σειρά. Αποτελεί μια χιουμοριστική ματιά στην ιστορία της Βρετανίας, και στους τέσσερις κύκλους της περιλαμβάνει διάφορες ιστορικές περιόδους ξεκινώντας από τον μεσαίωνα και καταλήγοντας στην περίοδο του Πρώτου Παγκοσμίου Πολέμου.
Blackadder is the name that encompassed four series of a BBC 1 period British sitcom, along with several one-off instalments. All television episodes starred Rowan Atkinson as anti-hero Edmund Blackadder and Tony Robinson as Blackadder's dogsbody, Baldrick. Each series was set in a different historical period with the two protagonists accompanied by different characters, though several reappear in one series or another, for example Melchett and Lord Flashheart. The first series titled The Black Adder was written by Richard Curtis and Rowan Atkinson, while subsequent episodes were written by Curtis and Ben Elton. The shows were produced by John Lloyd. In 2000 the fourth series, Blackadder Goes Forth, ranked at 16 in the "100 Greatest British Television Programmes", a list created by the British Film Institute. Also in the 2004 TV poll to find "Britain's Best Sitcom", Blackadder was voted the second-best British sitcom of all time, topped by Only Fools and Horses. It was also ranked as the 20th-best TV show of all time by Empire magazine.
Original title
Blackadder
TMDb Rating 7.9 165 votes
First air date
Jun. 15, 1983
Last air date
Nov. 02, 1989
Average Duration
32 minutes