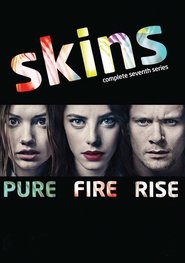 Skins – Το Παρεάκι: Season 7
Στηρίξτε τη Σελίδα μας Κάνοντας μία απλή Εγγραφή στην παρακάτω Διαφήμιση.Αν τα έσοδα ειναι Αρκετά για τα Έξοδα της Σελίδας θα Αφαιρεθούν η Αναδυόμενες Διαφημίσεις.
Skins is a British teen drama created by father-and-son television writers Bryan Elsley and Jamie Brittain for Company Pictures. The seventh and final series began airing on E4 on 1 July 2013 and ended on 5 August 2013. The final series sees the return of several characters from the first two generations of the show.Notably, all of the characters have undergone enormous personality changes since their last appearances: Effy has cast her party-hard lifestyle and issues aside, and has become more mature and ambitious. Naomi has lost much of her ambition as a principled young woman and is now a layabout and stoner. Emily has become more confident. Cassie has overcome her mental issues, but has become solitary, serious, principled and tired, and Cook has become much more subdued, serious and calculated, as a result of having spent years on the run.