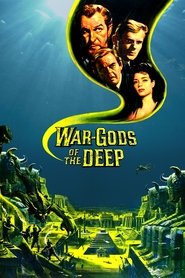 War-Gods of the Deep – Αιχμάλωτοι στο βυθό των θαλασσών
They dared the most fantastic journey that has ever challenged imagination!
May. 26, 1965
UK
84 Min.
Unrated
Synopsis
Η ιστορία έχει να κάνει με την ανακάλυψη μιας άγνωστης πόλης στο βυθό της θάλασσας και τους κατοίκους της, τους οποίους ανακαλύπτουν τυχαία δύο κάτοικοι μιας παραθαλάσσιας πόλης της Αγγλίας στις αρχές του 20ου αιώνα αναζητώντας την εξαφανισμένη φίλη του ενός. Οι δύο άνδρες ονόματι Bob (Tab Hunter)και Harold (David Tomlinson) περνούν μέσα από μια δίνη η οποία τους φέρνει στη μαγική υποθαλάσσια πόλη που διευθύνεται από τον Sir Hugh (Vincent Price).
A chance discovery leads American mining engineer Ben Harris and acquaintance Harold to discover a lost city under the sea while searching for their kidnapped friend Jill. Held captive in the underwater city by the tyrannical Captain (Vincent Price), and his crew of former smugglers, the three plot to escape…
Full movie online Greek subs ταινιες με ελληνικούς υποτίτλους onlinemovie.gr
Original title
War-Gods of the Deep
IMDb Rating 5.4 1,662 votes
TMDb Rating 4.8 26 votes