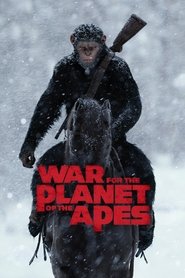 War for the Planet of the Apes – ο πόλεμος για τον πλανήτη των πιθήκων
Για ελευθερία. Για την οικογένεια. Για τον πλανήτη.
Jul. 11, 2017
USA
140 Min.
PG-13
Synopsis
Ο Σίζαρ και η αποικία του από πιθήκους εμπλέκονται σε πόλεμο με τους ανθρώπους. Όταν οι πίθηκοι υποφέρουν βαριές απώλειες, ο Σίζαρ μάχεται με τα σκοτεινότερα του ένστικτα, καθώς αποφασίζει να εκδικηθεί για το είδος του. Κυριότερος αντίπαλος του είναι ένας αδίστακτος συνταγματάρχης, και η επαφή ανάμεσα στους δύο θα καθορίσει τη μοίρα και των δυο ειδών πάνω στη Γη.
Original title
War for the Planet of the Apes
IMDb Rating 7.5 196,984 votes
TMDb Rating 6.6