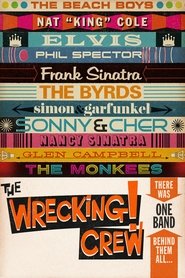 The Wrecking Crew
There was one band behind them all...
Mar. 11, 2008
United States
101 Min.
PG
Synopsis
Οι The Wrecking Crue ήταν μια ομάδα μουσικών στο Los Angeles που έπαιξαν σε πολύ διάσημους δίσκους την δεκαετία του '60. Κατά την διάρκεια των '60s, η ροκ μουσική ήταν στο απόγειό της και σε πολλές περιπτώσεις στους δίσκους, αντί για τα original μέλη της μπάντας, έπαιζαν «sessionάδες» μουσικοί, ώστε να επιτευχθεί ο ακριβής ήχος που ήθελαν είτε οι παραγωγοί είτε οι μουσικοί. Την ιστορία αυτών των ανθρώπων ακολουθεί το συγκεκριμένο ντοκιμαντέρ, την ιστορία των ανθρώπων που ηχογράφησαν τραγούδια όπως το 'California Dreamin", 'These Boots Are Made for Walkin", 'Be My Baby' και 'Good Vibrations'.
A celebration of the musical work of a group of session musicians known as "The Wrecking Crew", a band that provided back-up instrumentals to such legendary recording artists as Frank Sinatra, The Beach Boys and Bing Crosby.
Original title
The Wrecking Crew
IMDb Rating 7.6 2,206 votes
TMDb Rating 7.6 votes