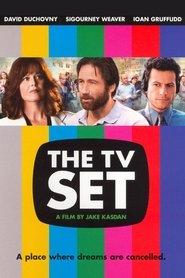 The TV Set – Η παράνοια της ΤV
A place where dreams are cancelled.
Apr. 28, 2006
USA
87 Min.
R
Synopsis
Ο δημιουργός τηλεοπτικών σειρών Μάικ Κλέιν επιτέλους πούλησε την πρωτότυπη ιδέα του σε έναν τηλεοπτικό σταθμό, μόνο που θα πρέπει να αναλάβει τα πάντα … το σενάριο, την παραγωγή, το σχεδιασμό του προγράμματος και να αντέξει την τρέλα που επικρατεί στο τηλεοπτικό δίκτυο. Μέσα σ' όλα, έχει να διαχειριστεί κατάλληλα τις απαιτήσεις της Λένυ και του Ρίτσαρντ, οι οποίοι είναι διευθυντές του καναλιού, κάποιους φιλόδοξους νέους ηθοποιούς, την έγκυο γυναίκα του και τον μάνατζέρ του, που δεν είναι σίγουρος αν τον εμπιστεύεται.
As a writer named Mike struggles to shepherd his semi-autobiographical sitcom into development, his vision is slowly eroded by a domineering network executive named Lenny who favors trashy reality programming. The irony, of course, is that every crass suggestion Lenny makes improves the show's response from test audiences and brings the show a step closer to getting on the air.
Original title
The TV Set
IMDb Rating 6.6 5,337 votes
TMDb Rating 5.8