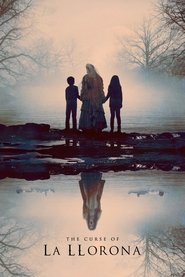 Στηρίξτε τη Σελίδα μας Κάνοντας μία απλή Εγγραφή στην παρακάτω Διαφήμιση.Αν τα έσοδα ειναι Αρκετά για τα Έξοδα της Σελίδας θα Αφαιρεθούν η Αναδυόμενες Διαφημίσεις.
Synopsis
Η Γιορόνα είναι μια απόκοσμη παρουσία κάπου ανάμεσα στον ουρανό και την κόλαση, παγιδευμένη σε μια φοβερή μετά θάνατο ζωή. Όταν ήταν ζωντανή έπνιξε τα παιδιά της και μετά αυτοκτόνησε στο ποτάμι, σπαράζοντας από πόνο. Τα δάκρυά της τώρα είναι αιώνια.Όσοι ακούσουν το θρήνο της τη νύχτα είναι καταδικασμένοι. Η Γιορόνα παραφυλά και αρπάζει παιδιά για να τα κάνει δικά της. Μια κοινωτική λειτουργός με τα παιδιά της σύντομα βρίσκονται σε μια τρομακτική υπερφυσική σφαίρα και η μόνη τους ελπίδα να επιβιώσουν είναι ένα ιερέας που προσπαθεί να κρατήσει μακριά το κακό.
A social worker dealing with the disappearance of two children fears for her own family after beginning the investigation.
Original title
The Curse of La Llorona
IMDb Rating 6.0 2,568 votes
TMDb Rating 5.6 93 votes