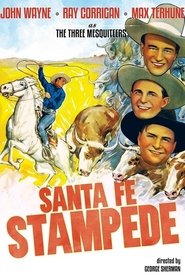 Santa Fe Stampede
A stampede of renegades in a round-up of bank raiders and . . . . Romance !
Nov. 18, 1938
USA
55 Min.
Passed
Synopsis
Οι Σωματοφύλακες αιχμαλωτίζουν έναν κλέφτη αλόγων που γλιτώνει συνεχώς από τη δικαιοσύνη μέσω ενός διεφθαρμένου δικαστή. Συγκεντρώνουν υπογραφές που προτρέπουν τον κυβερνήτη να ερευνήσει, αλλά ένας φίλος με την αναφορά δολοφονείται. Ο Στονι κατηγορείται…
The Mesquiteers capture a horse thief who escapes justice through a crooked judge. They gather signatures urging the governor to investigate but a friend with the petition is murdered. Stony is accused.
Original title
Santa Fe Stampede
IMDb Rating 6.2 288 votes
TMDb Rating 4.5 3 votes