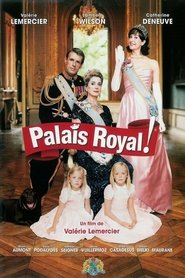 Royal Palace – Palais royal!
Nov. 23, 2005
France
100 Min.
G
Synopsis
Μπροστά σε μια έκπληξη που θα αλλάξει ριζικά την ζωή της βρίσκεται η λογοθεραπεύτρια Αρμέλ, όταν πληροφορείται πως ο σύζυγός της, είναι ο χαμένος γιος της βασίλισσας της χώρας και πως από την στιγμή που ο βασιλιάς μόλις εγκατέλειψε τα εγκόσμια εκείνος είναι πλέον ο διάδοχος του θρόνου. Από τις πρώτες ημέρες κιόλας στο παλάτι θα αντιληφθεί πως δεν είναι αυτό ακριβώς που ονειρευόταν, αφού νιώθει παρείσακτη και απομονωμένη αλλά και μόνιμα στο στόχαστρο του κίτρινου τύπου.
Eugenia is the queen of an imaginary European country. When her husband dies, quite unexpectedly, the country is left without a king. According to the law, the new king needs to be married so that leaves out the eldest son. Her youngest son, Prince Arnaud is married to the lovely Armelle and they have two young children. They become the future rulers of the kingdom.
Original title
Palais Royal!
IMDb Rating 5.6 1,770 votes
TMDb Rating 5.4 151 votes