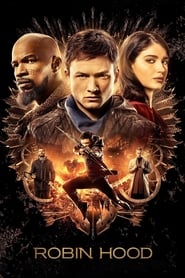 Στηρίξτε τη Σελίδα μας Κάνοντας μία απλή Εγγραφή στην παρακάτω Διαφήμιση.Αν τα έσοδα ειναι Αρκετά για τα Έξοδα της Σελίδας θα Αφαιρεθούν η Αναδυόμενες Διαφημίσεις.
Synopsis
Ο κόμης Ρόμπιν του Λόξλεϊ (Τάρον Έτζερτον), ένας σκληραγωγημένος από τον πόλεμο Σταυροφόρος, και ο Μαυριτανός διοικητής του, Λιτλ Τζον (Τζέιμι Φοξ), ξεκινούν μια τολμηρή εξέγερση ενάντια στο διεφθαρμένο αγγλικό στέμμα.
A war-hardened Crusader and his Moorish commander mount an audacious revolt against the corrupt English crown.
Original title
Robin Hood
IMDb Rating 5.3 34,374 votes
TMDb Rating 7 19 votes