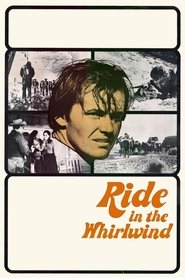 Ride in the Whirlwind – Καλπάζοντας στον ανεμοστρόβιλο
ride with the Easy Rider into an action whirlwind.
Oct. 23, 1966
USA
82 Min.
G
Στηρίξτε τη Σελίδα μας Κάνοντας μία απλή Εγγραφή στην παρακάτω Διαφήμιση.Αν τα έσοδα ειναι Αρκετά για τα Έξοδα της Σελίδας θα Αφαιρεθούν η Αναδυόμενες Διαφημίσεις.
Synopsis
Σ'αυτό το acid-western (όπως το κατηγοριοποιήσανε), λοιπόν, ο Jack με άλλους δυο φίλους του διασχίζουνε τη άγρια δύση με σκόπο να βρούνε δουλειά. Κάνουν στάση σε μια απομακρισμένη ορεινή καλύβα στην οποία βρίσκεται η συμμορία του Harry Dean Stanton, η οποία όμως καταζητείται για κλοπές και φόνους από ένα εκτελεστικό απόσπασμα. Τελικά θα τους βρούνε εκεί όλους μαζί, θα αρχίσουν να τους πυροβολούν και να τους σκοτώνουν και η αθώα τριάδα θα βρεθεί κυνηγημένη, χωρίς να φταίει σε τίποτα…
Three cowhands, between jobs, have the bad dumb luck to pitch night camp in the same valley as a cabin full of guys who just robbed a stagecoach and killed the guard. Come morning, a posse arrives, forms up along the ridge, and takes for granted that everyone down below is guilty–fit for either shooting to bits or hanging from a tree, whichever comes first. Precisely half of Ride in the Whirlwind's 82 minutes is devoted to tapping the matter-of-fact, absurdist horror of that situation. In the remaining half, the two surviving cowpokes (Jack Nicholson and Cameron Mitchell) seek shelter at a farmhouse where they reluctantly threaten the farmer, accept breakfast from his wife, flirt with his daughter (Millie Perkins), play some checkers, and hope to remain undetected till nightfall.
Original title
Ride in the Whirlwind
IMDb Rating 6.5 2,782 votes
TMDb Rating 6.3 32 votes