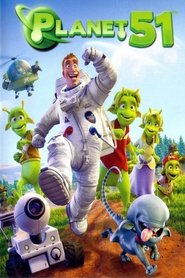 Planet 51 – Πλανήτης 51: Επισκέπτης από τη Γη
Something strange is coming to their planet...Us!
Nov. 19, 2009
Spain
91 Min.
PG
Synopsis
Ο Chuck Baker (με τη φωνή του Dwayne Johnson) είναι ένας αστροναύτης και προσγειώνεται στον πλανήτη 51, με την πεποίθηση πως είναι ο πρώτος άνθρωπος που πατάει το πόδι του στον πλανήτη αυτό. Έκπληκτος όμως ανακαλύπτει πως ο πλανήτης κατοικείται από μικρά πράσινα ανθρωπάκια. Ανάμεσά τους ο Lem ένα παιδί υπόδειγμα, ο Skiff o φαντασιόπληκτος φίλος του Lem, η Neera κρυφά ερωτευμένη με τον Lem και ο στρατηγός Grawl που έχει ως καθήκον να υπερασπίσει τον πλανήτη από τους εισβολείς. Τα ανθρωπάκια αυτά ζουν ευτυχισμένα και ειρηνικά, με ένα τρόπο ζωής που θυμίζει την Αμερική των ΄50s. Κι έχουν μόνο ένα φόβο: πως μια μέρα θα εμφανιστούν στον πλανήτη τους εισβολείς από άλλο πλανήτη… όπως ο Chuck.
When Earth astronaut Capt. Chuck Baker arrives on Planet 51 — a world reminiscent of American suburbia circa 1950 — he tries to avoid capture, recover his spaceship and make it home safely, all with the help of an empathetic little green being.
IMDb Rating 6.1 46,943 votes
TMDb Rating 5.6