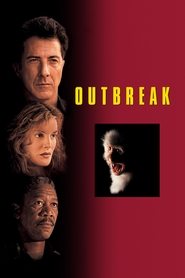 Outbreak – Το ξέσπασμα
This animal carries a deadly virus... and the greatest medical crisis in the world is about to happen.
Mar. 10, 1995
USA
127 Min.
R
Synopsis
Ο στρατηγός Μπίλι Φορντ αναθέτει στον συνταγματάρχη Σαμ Ντάνιελς, που εργάζεται στο Αμερικανικό Στρατιωτικό Ινστιτούτο Ερευνών για Μολυσματικές Ασθένειες, να ερευνήσει την ξαφνική εμφάνιση ενός θανατηφόρου μολυσματικού ιού, που έχει εξαπλωθεί στην Αφρική. Μετά από έρευνες, συμπεραίνει πως υπάρχουν αρκετές πιθανότητες ο φονικός αυτός ιός να εξαπλωθεί και στις ΗΠΑ. Αμέσως φροντίζει να ενημερώσει τους ανωτέρους του, χωρίς εξήγηση όμως, ο Στρατηγός Φορντ απαλλάσσει τον Σαμ από την υπόθεση και οι προϊστάμενοι της Ρόμπι αρνούνται να λάβουν υπόψη τους τις προειδοποιήσεις της…
A deadly airborne virus finds its way into the USA and starts killing off people at an epidemic rate. Col Sam Daniels' job is to stop the virus spreading from a small town, which must be quarantined, and to prevent an over reaction by the White House.
IMDb Rating 6.6 100,026 votes
TMDb Rating 6.3