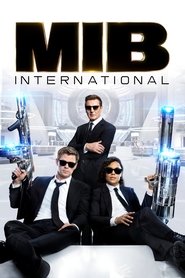 Men in Black: International – Οι Άνδρες με τα Μαύρα: Παγκόσμια Απειλή
The universe is expanding
Jun. 12, 2019
UK
115 Min.
PG-13
Στηρίξτε τη Σελίδα μας Κάνοντας μία απλή Εγγραφή στην παρακάτω Διαφήμιση.Αν τα έσοδα ειναι Αρκετά για τα Έξοδα της Σελίδας θα Αφαιρεθούν η Αναδυόμενες Διαφημίσεις.
Synopsis
Οι Άντρες με τα Μαύρα έχουν εξαπλώσει τη δράση τους στον πλανήτη, το ίδιο όμως έχουν κάνει και τα εξωγήινα αποβράσματα. Για να μας προστατεύσουν, ο παρασημοφορημένος Πράκτορας H (Chris Hemsworth) και η αποφασισμένη νεοσύλλεκτη M (Tessa Thompson) ενώνουν τις δυνάμεις τους σε ένα απρόσμενο δίδυμο που μπορεί και να τα καταφέρει. Καθώς έρχονται αντιμέτωποι με μία νέα παγκόσμια απειλή που μπορεί να πάρει τη μορφή του οποιουδήποτε, ακόμα και ενός Άντρα με τα Μαύρα, πρέπει να συνεργαστούν για να σώσουν την οργάνωση και τον ίδιο τον κόσμο.
The Men in Black have always protected the Earth from the scum of the universe. In this new adventure, they tackle their biggest, most global threat to date: a mole in the Men in Black organization.
Original title
Men in Black: International
TMDb Rating 10 1 votes