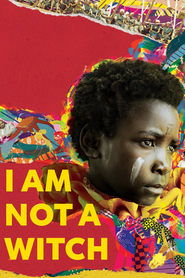 Στηρίξτε τη Σελίδα μας Κάνοντας μία απλή Εγγραφή στην παρακάτω Διαφήμιση.Αν τα έσοδα ειναι Αρκετά για τα Έξοδα της Σελίδας θα Αφαιρεθούν η Αναδυόμενες Διαφημίσεις.
Synopsis
Καταδικασμένο για μαγεία, ο 8χρονος Shula μεταφέρεται σε μια ποινική αποικία, όπου οι μάγισσες κάνουν σκληρή εργασία στην υπηρεσία της κυβέρνησης.
Convicted of witchcraft, 8-year-old Shula is brought to live in a penal colony where witches do hard labor in service of the government.
Original title
I Am Not a Witch
IMDb Rating 6.9 1,926 votes
TMDb Rating 6.8 26 votes