Hotel Transylvania 3: Summer Vacation – Ξενοδοχείο Για Τέρατα 3: Ώρα Για Διακοπές
Οικογενειακές διακοπές. Θα τον κάνουν βαμ-πυρ και μανία.
Jun. 30, 2018
USA
97 Min.
PG
Synopsis
Στο ΞΕΝΟΔΟΧΕΙΟ ΓΙΑ ΤΕΡΑΤΑ 3: ΩΡΑ ΓΙΑ ΔΙΑΚΟΠΕΣ, η αγαπημένη μας οικογένεια πάει ταξίδι με ένα πολυτελές κρουαζιερόπλοιο για τέρατα. Έτσι ο Ντρακ θα κάνει κι αυτός μια φορά διακοπές, αντί να φροντίζει τις διακοπές όλων των άλλων στο ξενοδοχείο. Όλοι περνούν υπέροχα παίρνοντας μέρος στις δραστηριότητες που προσφέρονται στο πλοίο, όπως βόλεϊ για τέρατα, εξωτικές εξορμήσεις και φεγγαρο-θεραπεία. Οι ονειρεμένες διακοπές όμως μετατρέπονται σε εφιάλτη όταν η Μέιβις αντιλαμβάνεται πως ο Ντρακ έχει ερωτευτεί τη μυστηριώδη καπετάνιο, την Έρικα, η οποία κρύβει ένα επικίνδυνο μυστικό που θα μπορούσε να καταστρέψει όλα, μα όλα τα τέρατα.
Dracula, Mavis, Johnny and the rest of the Drac Pack take a vacation on a luxury Monster Cruise Ship, where Dracula falls in love with the ship's captain, Ericka, who's secretly a descendant of Abraham Van Helsing, the notorious monster slayer.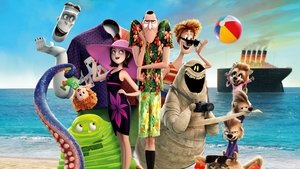 Original title
Hotel Transylvania 3: Summer Vacation
IMDb Rating 6.3 38,898 votes
TMDb Rating 7