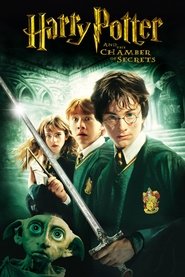 Harry Potter and the Chamber of Secrets – Ο Χάρι Πότερ Και Η Κάμαρα Με Τα Μυστικά
Το κακό επιστρέφει στο Χόγκουαρτς!
Nov. 13, 2002
UK
161 Min.
PG
Synopsis
Ο Χάρι επιστρέφει με τους φίλους του Ρόν Ουέσλι και Ερμιόνη Γκρέιντζερ για τον δεύτερο χρόνο τους στην σχολή μαγείας Χόγκουαρντς. Οι τρεις πρωταγωνιστές καλούνται να αντιμετωπίσουν μυστήρια τα οποία ακόμη και οι δάσκαλοι της σχολής, Ντάμπλντορ, Σνέιπ και ΜακΓκόναγκαλ, όπως και ο Χάγκριντ μοιάζουν να φοβούνται να αντιμετωπίσουν. Υπάρχει πραγματικά μια Κάμαρα με Μυστικά κρυμμένη κάπου μέσα στο Χόγκουαρντς; Μπορεί πραγματικά να ανοιχτεί μόνο από τον απόγονο του Σάλαζαρ Σλίθεριν; Υπάρχει πραγματικά κάποιο τέρας εκεί μέσα; Ή μήπως το τέρας έχει ήδη δραπετεύσει και είναι υπεύθυνο για ότι συμβαίνει στους μαθητές; Οι απαντήσεις βρίσκονται στο παρελθόν, αλλά και στο παρόν και είναι στα χέρια των ηρώων μας να λύσουν και αυτό το μυστήριο.
Original title
Harry Potter and the Chamber of Secrets
IMDb Rating 7.4 428,467 votes
TMDb Rating 7.4