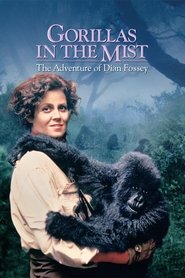 Gorillas in the Mist – Γορίλες στην ομίχλη
At the far ends of the earth she found a reason to live, and a cause to fight for.
Sep. 23, 1988
USA
129 Min.
PG-13
Synopsis
Gorillas in the Mist: The Story of Dian Fossey: Η ιστορία της Νταϊάν Φόσεϊ, μιας γυναίκας που εγκαταστάθηκε στη Ρουάντα, αφοσιώθηκε στη μελέτη του ορεινού γορίλα, μολονότι ερασιτέχνις κατάφερε να πλησιάσει και να επικοινωνήσει με τα επικίνδυνα αυτά θηλαστικά, ενώ παράλληλα πολέμησε τους λαθροθήρες που οδηγούσαν σε αφανισμό το είδος.
The story of Dian Fossey, a scientist who came to Africa to study the vanishing mountain gorillas, and later fought to protect them.
Original title
Gorillas in the Mist
IMDb Rating 7.0 21,931 votes
TMDb Rating 6.9 218 votes