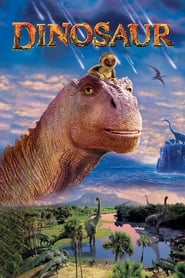 Dinosaur – Η εποχή των δεινοσαύρων
You have never seen anything like this.
May. 19, 2000
USA
82 Min.
PG
Synopsis
Deinosavros: Όταν μια βροχή από μετεωρίτες καταστρέφει το νησί που ζούσε ένας φιλήσυχος δεινόσαυρος, εκείνος αναγκάζεται να ακολουθήσει ένα κοπάδι δεινοσαύρων που αναζητά ασφαλές καταφύγιο από τις επιθέσεις σαρκοφάγων προϊστορικών τεράτων.
An orphaned dinosaur raised by lemurs joins an arduous trek to a sancturary after a meteorite shower destroys his family home.
IMDb Rating 6.5 46,952 votes
TMDb Rating 6.4 1,047 votes