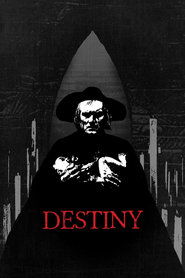 Synopsis
Der müde Tod: Ένα νεαρό ζευγάρι κάνει στάση σε ένα επαρχιακό πανδοχείο. Ο άντρας απάγεται από τον θάνατο και οδηγείται σε ένα δωμάτιο χωρίς πόρτα και παράθυρα. Η γυναίκα θα συναντήσει τον θάνατο, θέλοντας να σώσει τον αγαπημένο της. Ο θάνατος θα της εξιστορήσει τρείς ιστορίες, από διαφορετικούς χρόνους, όλες παραπλήσιες με την κατάσταση τους.
Μια εξπρεσιονιστική ταινία, η πρώτη τόσο σημαντική του Fritz Lang, που επηρέασε πολλούς. Ο Luis Bunuel είπε ότι με αυτό το έργο αποφάσισε να ασχοληθεί με την έβδομη τέχνη και ο Alfred Hitchcock θεωρούσε αυτή ως αγαπημένη του ταινία.
As a young couple stops and rests in a small village inn, the man is abducted by Death and is sequestered behind a huge doorless, windowless wall. The woman finds a mystic entrance and is met by Death, who tells her three separate stories set in exotic locales, all involving circumstances similar to hers. In each story, a woman, trying to save her lover from his ultimate tragic fate, fails. The young lady realizes the meaning of the tales and takes the only step she can to reunite herself with her lover.
Original title
Der müde Tod
IMDb Rating 7.7 4,464 votes
TMDb Rating 7.5