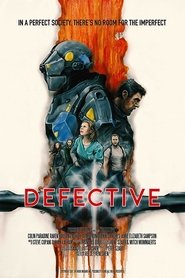 Defective
In a perfect society, there's no room for the imperfect.
Oct. 17, 2017
Canada
101 Min.
N/A
Synopsis
Στο άμεσο μέλλον, όπου ο Rhett Murphy και η αποξενωμένη αδελφή Jean του αναγκάζονται να εγκαταλείψουν ένα στρατιωτικό αστυνομικό κράτος, αφού μαρτυρούν τα σκοτεινά μυστικά μιας φρικτής εταιρείας.
Set in the near future where Rhett Murphy and his estranged sister Jean are forced to flee from a militant police state after witnessing the dark secrets of a nefarious corporation.
IMDb Rating 7.5 13 votes
TMDb Rating 3