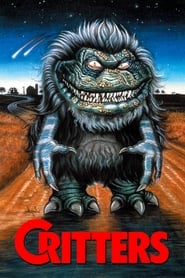 Critters – Κρίττερς
They eat so fast, you don't have time to scream.
Apr. 11, 1986
USA
82 Min.
PG-13
Synopsis
Ενας σωρός από εκατοντάδες, μικρά, στρογγυλά τερατάκια που προσγειώθηκε στον πλανήτη μας με πολύ άγριες διαθέσεις, για να αναστατώσει τους γήινους.
A massive ball of furry creatures from another world eat their way through a small mid-western town followed by intergalactic bounty hunters opposed only by militant townspeople.
IMDb Rating 6.0 28,048 votes
TMDb Rating 5.9