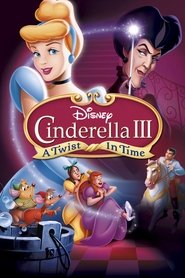 Cinderella III: A Twist in Time – Σταχτοπούτα III: Στροφή Στο Χρόνο
What if the slipper didn't fit?
Feb. 06, 2007
USA
74 Min.
G
Synopsis
Η κακιά μητριά βρίσκει ένα ξόρκι που αντιστρέφει ό,τι είχε κάνει η καλή νεράιδα. Ό,τι είχε φτιάξει (το φόρεμα, τα άλογα και η άμαξα) για να πάει η Σταχτοπούτα στο χορό. Άραγε, χωρίς τη μαγεία, θα ζήσουν αυτοί καλά κι εμείς καλύτερα; τι θα κάνει η Σταχτοπούτα; Θα το μάθουμε στην ταινία.
When Lady Tremaine steals the Fairy Godmother's wand and changes history, it's up to Cinderella to restore the timeline and reclaim her prince.
Full movie online Greek subs ταινιες με ελληνικούς υποτίτλους onlinemovie.gr
Original title
Cinderella III: A Twist in Time
IMDb Rating 6.0 7,719 votes
TMDb Rating 6