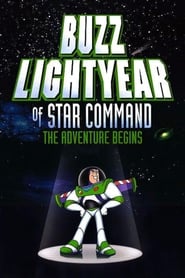 Buzz Lightyear of Star Command: The Adventure Begins – Μπαζ Λαϊτγίαρ της Αστρικής Διοίκησης: Η περιπέτεια αρχίζει
Never fear, Buzz is here...
Aug. 08, 2000
USA
70 Min.
Not Rated
Synopsis
Ο Μπαζ Λάιτγιαρ, ο σούπερ ήρωας των μεγάλων επιτυχιών Toy Story Ι & ΙΙ επιστρέφει όπως δεν τον έχετε δει ποτέ! Τώρα για πρώτη φορά θαυμάστε τον πιο θαρραλέο Στρατιώτη του Διαστήματος σε ένα διαγαλαξιακό αγώνα επικών προδιαγραφών κατά του σατανικού Αυτοκράτορα Ζοργκ
Buzz Lightyear must battle Emperor Zurg with the help of three hopefuls who insist on being his partners.
Original title
Buzz Lightyear of Star Command: The Adventure Begins
IMDb Rating 6.1 3,598 votes
TMDb Rating 5.8 102 votes