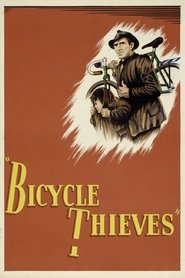 Bicycle Thieves – Κλέφτης ποδηλάτων
A man and his son search for a stolen bicycle vital for his job.
Nov. 24, 1948
Italy
89 Min.
Not Rated
Synopsis
Ladri di biciclette: Ο Antonio Ricci ζει στη μεταπολεμική Ρώμη, είναι άνεργος και έχει να φροντίσει μια οικογένεια με δυο παιδιά. Όταν του προσφέρεται μια δουλειά, με την προϋπόθεση να διαθέτει ένα ποδήλατο, η οικογένεια πουλάει τα σεντόνια της προκειμένου αυτό να αγοραστεί. Την ώρα όμως που ο Antonio προσπαθεί να κολλήσει μια αφίσα, του κλέβουν το ποδήλατο. Τότε αρχίζει η προσωπική του Οδύσσεια στις φτωχογειτονιές της Ρώμης, προκειμένου να βρει το ποδήλατο. Στο αγωνιώδες αυτό "ταξίδι" σύντροφός του είναι το δεκάχρονο παιδί του. Τελικά ο Antonio συμπληρώνει αυτό τον κύκλο της απελπισίας, προσπαθώντας να κλέψει κι αυτός το ποδήλατο ενός άλλου.
Antonio, an unemployed man in the depressed post-WWII economy of Italy, at last finds a good job hanging up posters, the only requirement for which is that he must have his own bicycle. When Antonio's bicycle is stolen, he and his son are forced to walk the streets of Rome in search of it, or else face ruin.
Full movie online Greek subs ταινιες με ελληνικούς υποτίτλους onlinemovie.gr
Original title
Ladri di biciclette
IMDb Rating 8.3 124,439 votes
TMDb Rating 8.2 736 votes