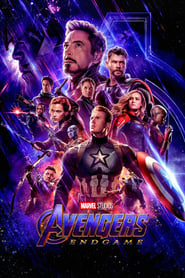 Avengers: Endgame – Εκδικητές: Η Τελευταία Πράξη
Το τέλος είναι κομμάτι του ταξιδιού
Apr. 24, 2019
USA
181 Min.
PG-13
Synopsis
Με τη μισή ζωή να αποσυντίθεται σε ολόκληρο το σύμπαν και με μόνο ένα πιθανό μέλλον, έχουν οι Εκδικητές και οι σύμμαχοί τους οι Σούπερ Ήρωες ό,τι χρειάζεται για να ανατρέψουν την καταστροφική δύναμη των Πετραδιών της Αιωνιότητας; Η τελευταία πράξη είναι τώρα και πρέπει να γίνουν θυσίες.
Η άσχημη πορεία των γεγονότων που τέθηκαν σε κίνηση από τον Θάνος που εξαφάνισε το μισό σύμπαν και διέσπασε το ρόστερ των Εκδικητών αναγκάζει τους υπόλοιπους Εκδικητές να κάνουν μια τελευταία προσπάθεια στην σπουδαία κατάληξη των 22 ταινιών της Marvel Studios, το Εκδικητές: Η Τελευταία Πράξη.
The turning point of the beloved heroes' epic journey, as they come to truly understand how fragile their reality is and the sacrifices that must be made to uphold it.
Original title
Avengers: Endgame
IMDb Rating 9.3 3,638 votes
TMDb Rating 8.7 851 votes