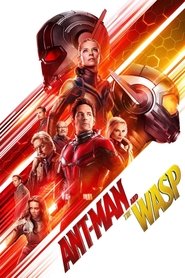 Ant-Man and the Wasp – Ο Αντ-Μαν Και Η Σφήκα
Real Heroes. Not Actual Size
Jul. 04, 2018
USA
118 Min.
PG-13
Στηρίξτε τη Σελίδα μας Κάνοντας μία απλή Εγγραφή στην παρακάτω Διαφήμιση.Αν τα έσοδα ειναι Αρκετά για τα Έξοδα της Σελίδας θα Αφαιρεθούν η Αναδυόμενες Διαφημίσεις.
Synopsis
Μετά το τέλος του «Captain America: Εμφύλιος Πόλεμος», ο Scott Lang ζει πλέον με τις συνέπειες των επιλογών του, μοιράζοντας το χρόνο του ως υπέρ-ήρωας, αλλά και ως πατέρας. Προσπαθώντας να ισορροπήσει την σπιτική ζωή και τις ευθύνες του ως Ant-Man, αντιμετωπίζει μια καινούργια πρόκληση που του αναθέτουν η Hope Ban Dyne και ο δόκτωρ Hank Pym. Ο Scott πρέπει να ξαναφορέσει το κοστούμι του και να μάθει να πολεμάει δίπλα στην Σφήκα, ως μια δεμένη ομάδα που δουλεύει μαζί για να καλύψει μυστικά από το παρελθόν.
As Scott Lang balances being both a superhero and a father, Hope van Dyne and Dr. Hank Pym present an urgent new mission that finds the Ant-Man fighting alongside the Wasp to uncover secrets from their past.
Original title
Ant-Man and the Wasp
IMDb Rating 7.1 211,270 votes
TMDb Rating 7.2